The St Agnes uniform shapes an important part of our identity within the community and is very much a part of the St Agnes tradition.
Our uniform identifies the wearers as students of St Agnes and students should wear the uniform correctly, with dignity and pride at all times.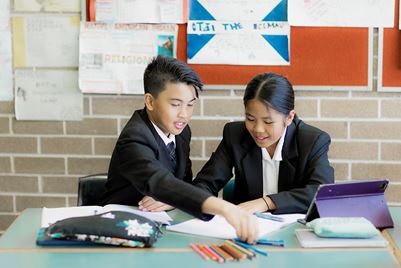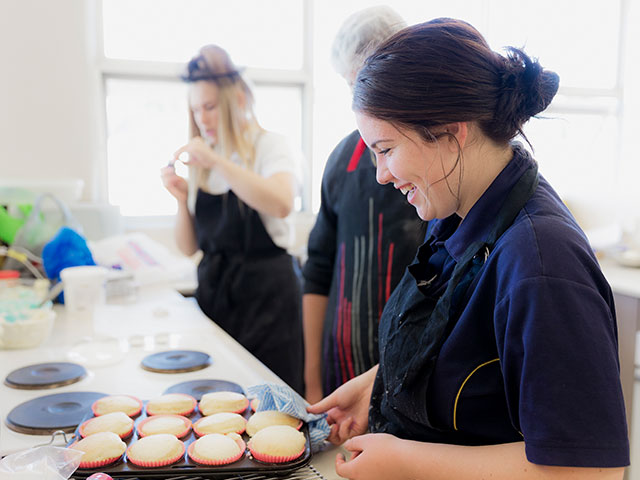 A student's sense of belonging and identity is aided by wearing a school uniform. Pride in the school is often demonstrated by the manner in which a student wears his/her school uniform. All St Agnes uniform articles other than shoes and tights must be purchased from the school uniform shop.
Girls Uniform
Boys Uniform
School skirt (below the knee length)
School grey trousers
St Agnes school blouse
Short sleeved, school shirt, tucked in
(long sleeves optional in Terms 2 & 3)
Opaque black tights (blue turn over socksare optional in Terms 1 & 4)
Standard dark socks
Standard polished lace up school shoes(no elevated heels)
Standard polished lace up school shoes
School cap
School cap
School blazer
School blazer
Plain black scarf
(optional in Terms 2 & 3 only)
Plain black scarf
(optional in Terms 2 & 3 only)
Plain black gloves
(optional in Terms 2 & 3 only)
Plain black gloves
(optional in Terms 2 & 3 only)
School tie
Black belt
School Bag
The St Agnes school bag is a compulsory part of the school uniform.
Students have a responsibility to adhere to our policy in regards to school bags. If a student fails to follow our policy they will be required to use a plain plastic bag daily (supplied) until the school bag has been cleaned of all graffiti or an replacement bag has been purchased.
Sports Uniform
School cap
School tracksuit
School sport shirt with crest
School shorts
White ankle length school socks
Clean lace up joggers
Wearing Of School Uniform
Correct school uniform is to be worn travelling to and from the school, while at the school and at any formal occasion designated by the Principal. The school uniform should be clean and neat at all times.
Grooming
Students are expected to keep their hair clean, neat and tidy at all times. Students are to keep their hair off the face and out of their eyes. Long hair below the shoulders should be tied back. All hair accessories are to be black. There are to be no extremes of fashion in hairstyle, cut, colour or accessories. The Assistant Principal will make the final decision on what is extreme.
No make up or nail polish is permitted.
Boys must be clean shaven.
Jewellery
In the interest of safety and security, no inappropriate jewellery should be worn. Body studs, chains or bracelets are not permitted. Inappropriate jewellery will be confiscated and secured in the school office until collected by the student's parents, or returned at the end of term.
The following only may be worn:
a simple wrist watch
a plain gold or silver ring (with no elevations, stones or sharp points)
a plain gold or silver chain with a Christian cross or Christian medal (to be worn underneath the shirt)
one pair of plain gold or silver sleepers or small studs without stones, one in the lobe of each ear (Boys are permitted an appropriate earring in one earlobe only)
If a student is wearing any accessory to the uniform that is not permitted a parent/guardian will be required to come to the administration office to collect their student's property.
---
Uniform Shop
The new store is located at Blacktown Mega Centre – St Martins Crescent Blacktown and uniforms will be available in the new store from Monday 2 October, 2023. It will be open 7 days per week for your convenience.
The Uniform Shop is closed during school holidays.
Online orders can be made by clicking the below link.
---
Payments
Payments of cash, Eftpos, Visa and Mastercard are accepted. We accept American Express (1.32% fee) and Diners Card (3.83% fee).
Prices are correct at the time of inclusion but are subject to change depending on manufacturing costs.
Please note that there are NO layby facilities available at the Uniform Shop.
---
How to Order
Orders can be made online and picked up from the shop on the school grounds. www.theschoollocker.com.au
For further information about uniforms, contact the School Locker on 8796 2100 or email StAgnesCatholicHS@theschoollocker.com.au.