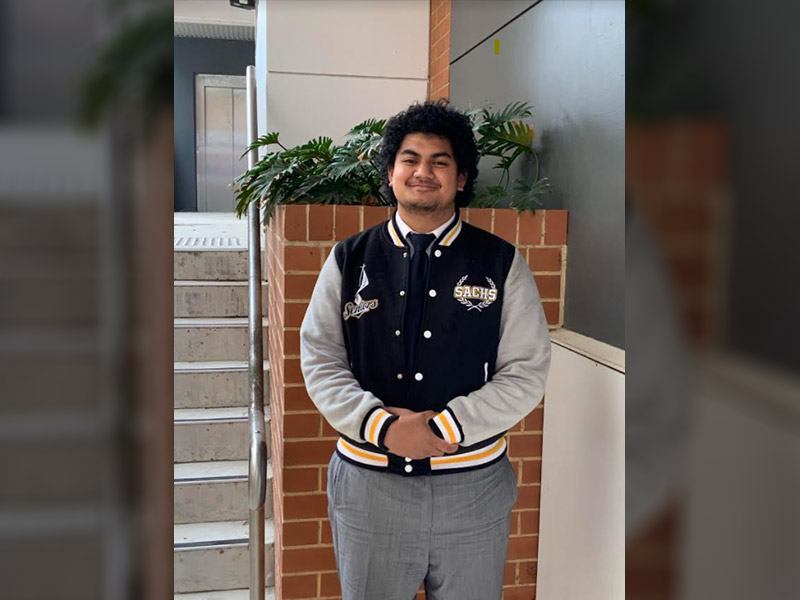 Despite the challenges of completing HSC Music during COVID-19 lockdown, St Agnes Catholic High School Rooty Hill Year 12 student William Palaki's final year at school ended on a high note.
The talented young musician was offered early entry to the prestigious Conservatorium of Music at The University of Sydney even before the HSC exams began.
William auditioned for the Conservatorium of Music as part of the Creative Arts Special Admission Scheme (CASAS) which offers talented Year 12 students a chance to receive an early offer to study based on audition and academic performance, prior to getting an ATAR.
William recently received confirmation that he has been accepted into a Diploma of Music Performance, which will allow him to pursue further studies and ultimately a career in music.
"I'm relieved and really happy. So happy that all the work that I have put in paid off and grateful for the support from my teachers," William said.
William joined the CAPTIVATE Music 1 'cluster class' in 2020 that began at CathWest Innovation College in Mount Druitt and then moved to St Agnes Catholic High School, delivered by Francoise Marrier d'Unienville and David Russell.
The Rooty Hill school, under the leadership of Principal Lisa-Maree Browning, is committed to ensuring students' talents and strengths are nurtured through partnerships such as these.
"It is through authentic links and partnerships with leaders and experienced professionals that we are able to support our students throughout their high school journey, so they graduate with recognised skills and often credentials that are recognised by universities and workplaces," Lisa-Maree said.
CAPTIVATE is the creative and performing arts program for Catholic Education Diocese of Parramatta's 80 schools across Western Sydney and the Blue Mountains. A cluster class groups students across several schools to support learning in a specialised subject area.
"Throughout his Music course, William has demonstrated a thirst for knowledge and diligence in improving his skills in performance, composition, and analysing and exploring a wide variety of music genres," Francoise said.
William's main instrument is the trumpet, which his father, a trombone player, taught him to play at the age of 7, and he joined the church band when he was 12. He has been having tuition for the last year with Dan Williams from the CAPTIVATE team.
During COVID-19 lockdown William continued to prepare his performance pieces with a rigorous practise schedule while having his music lessons via Zoom.
Like most students studying Music, William had a band to accompany some of his performances and a piano accompanist for the others. Due to lockdown, Willam had to do his final performance using a pre-recorded backing track, video himself and send it through to be marked by his teachers. This meant he never had the opportunity to perform his pieces that he had been preparing for over a year live in front of his family, school community and external HSC examiners.
"I was really bummed that I didn't get the experience of playing with other performers and disappointed that I didn't get to showcase my pieces after all the hard work that I put into them," William said.
Francoise said that the Conservatorium of Music is one of the most prestigious and highly acclaimed places to study music in Sydney and William can be very proud of his achievement, particularly after such a challenging final year.
"These early offers are only given to exceptional students from across the country. We are very proud of William and all of his efforts, especially in such tumultuous times."
The Assistant Principal (Learning Transformation) at St Agnes Catholic High School Geoffrey Kemmis is equally proud of William.
"We, at St Agnes, have seen the time and commitment William has placed into the Music 1 course. This has indeed been recognised by the Conservatorium with their offer," Geoffrey said.
William joins several of his peers with early entry offers to the University of Technology Sydney, The University of Sydney, UNSW Sydney and Western Sydney University.