Winston Sesilia Vaka and his fellow students from St Agnes Catholic High School were interviewed and performed a haka live on Network Ten's Studio 10 program to talk about their involvement in the Haka Warrior competition
Students from St Agnes Catholic High School Rooty Hill have joined over a hundred young men from around Western Sydney to take part in the 2021 Haka Warrior Competition - an event which is being lauded for much more than its powerful performances.
After a one-year hiatus due to the COVID-19 pandemic, the Haka Warrior competition returned with a bang this year with an expanded program involving 10 schools, culminating in a competition at West HQ in Rooty Hill.
While the Maori haka is famous thanks to the New Zealand All Blacks rugby team, students involved in the Haka Warrior Competition adapted their performances to reflect the diverse Polynesian and Pacific Island communities they represent.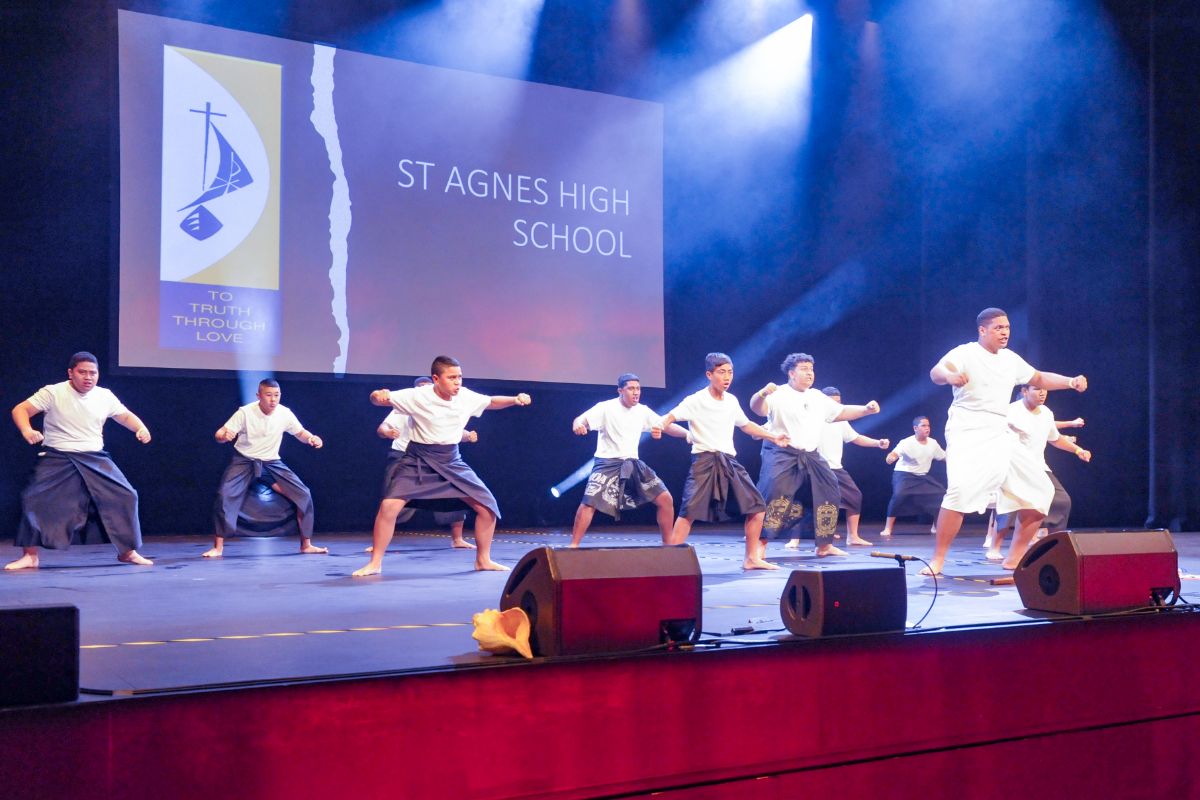 St Agnes performs on stage during the Haka Warrior competition
"Even though the haka is native to New Zealand, 80 percent of the boys in the program are not Maori," explained PCYC Blacktown club manager JoJo Tau. "It doesn't matter what culture or background you're from, we're still the same. The fact that the Polynesian and Tongan boys are embracing it is beautiful."
Each team delivered two initial performances with the top eight going on to compete in head-to-head finals with Evans High School ultimately crowned the winners.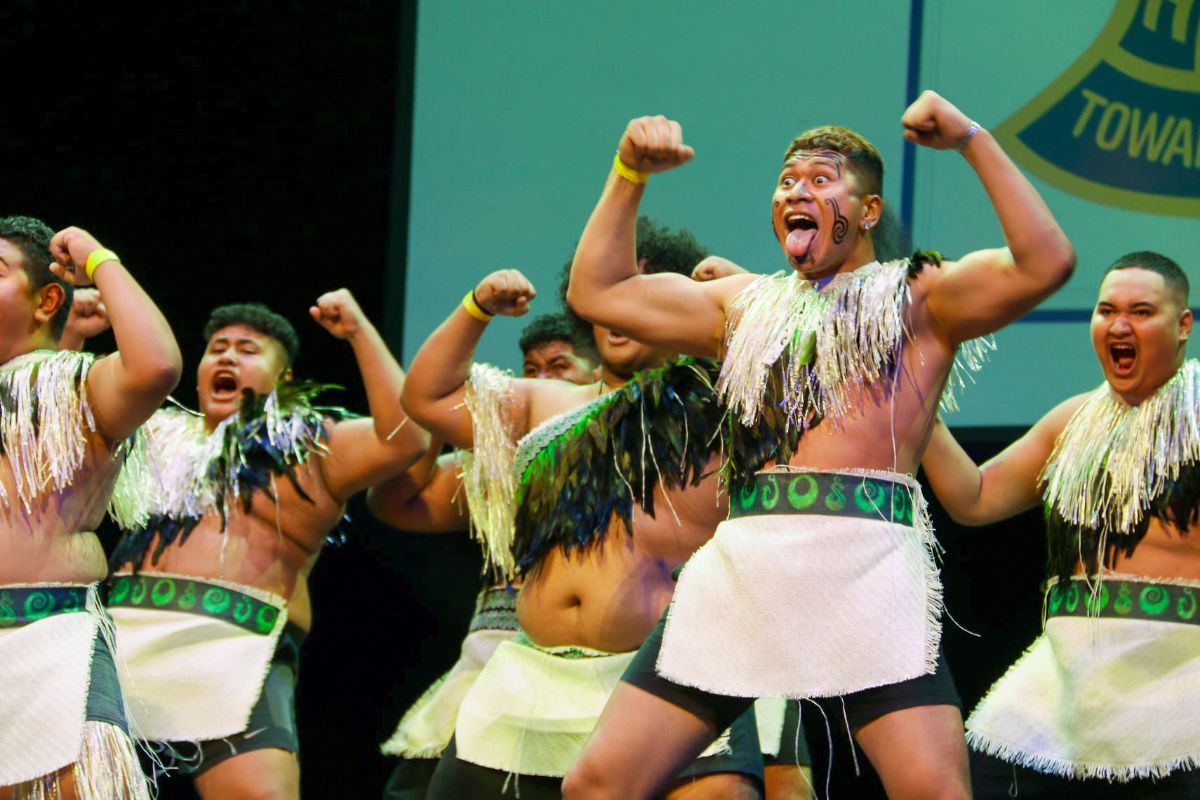 Evans High School won the 2021 Haka Warrior competition
"Our program is not about the haka itself. It's about the components and applying them to their everyday lives - the discipline, the respect, the determination, the pride. We use the haka as a vehicle."
"It's all about showing to others that we're ready, that we're warriors and we will represent our culture no matter what," said St Agnes Catholic High School student Winston Sesilia Vaka.
"Throughout the whole program, their growth, increased self esteem and confidence, their leadership skills have all really shone through," added Samantha Padovani, Family School Liaison Officer at St Agnes Catholic High School and St Clare's Catholic High School. "Supporting each other and most importantly believing in themselves was a powerful part of their development through this program."
Organisers and participants were thrilled to see the showcase attract considerable national media attention with Network 10, ABC, Nine Network and SBS all covering the competition.
"It's exhilarating," said Winston. "Even before you get onto stage, it really pumps you up knowing that you're up next. Being on stage, it's exciting to show who you are, especially when your family is out in the audience."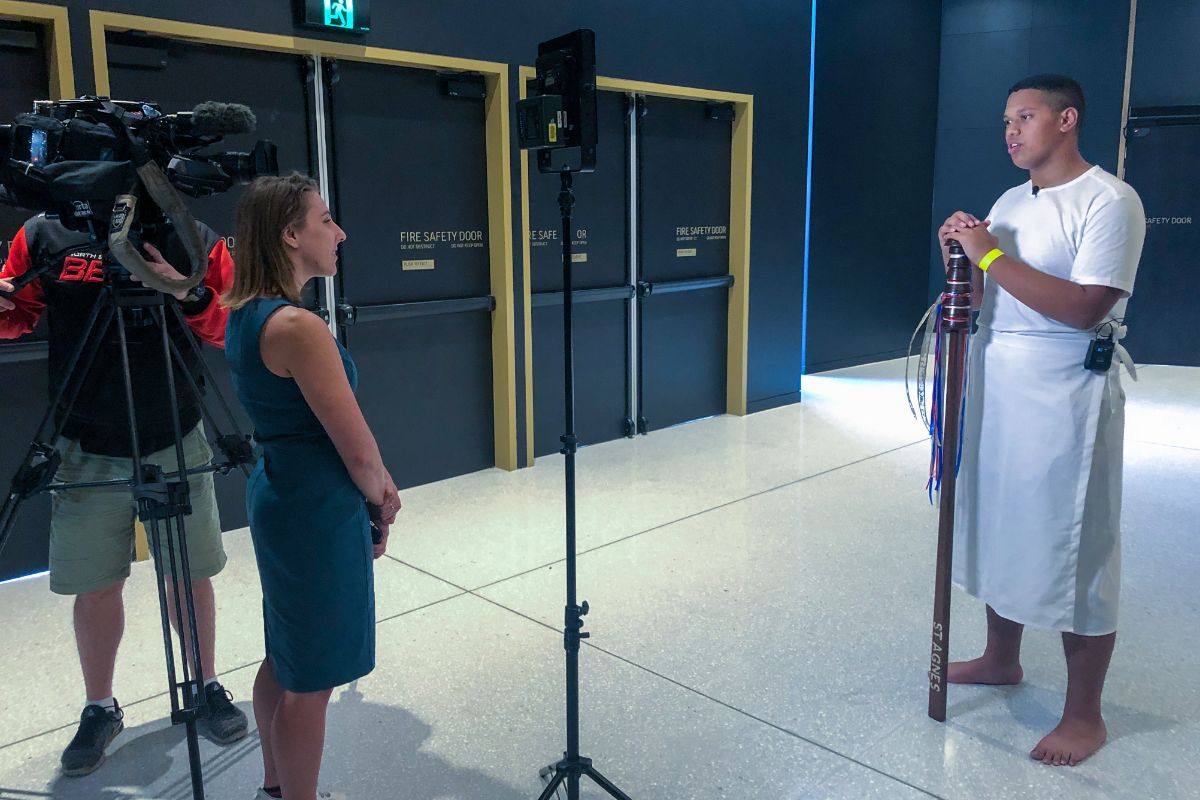 St Agnes student Winston Vaka is interviewed by SBS News
The 20-week program began in late 2020 with a special leadership workshop involving one or two leaders from each school. Those leaders were then charged with engaging with their peers for a series of in-school workshops where they practice their routines, learn about their different cultures, important values and develop valuable life skills. Over 250 students were involved in the program.
"Strengthening and developing the students' cultural identity also benefited their learning in the classroom," said Samantha. "More confidence, increased presence, greater willingness to participate. There's so many benefits from cultural programs whether they identify as Polynesian or not. The Haka program is open to all nationalities."
"Don't get me wrong, the Haka Warrior competition is fantastic but when you see the leadership meetings, when you see the brotherhood shine through, it's magical," said JoJo.
Event organisers reserved special praise for the St Agnes students who entered the competition late.
"The moment you walked in the door at St Agnes, the Principal and deputy were in there waiting to welcome us," said JoJo. "The care that those teachers have for their students and the boys themselves are so respectful and well-mannered - it was something else. Their understanding of culture was so impressive and advanced."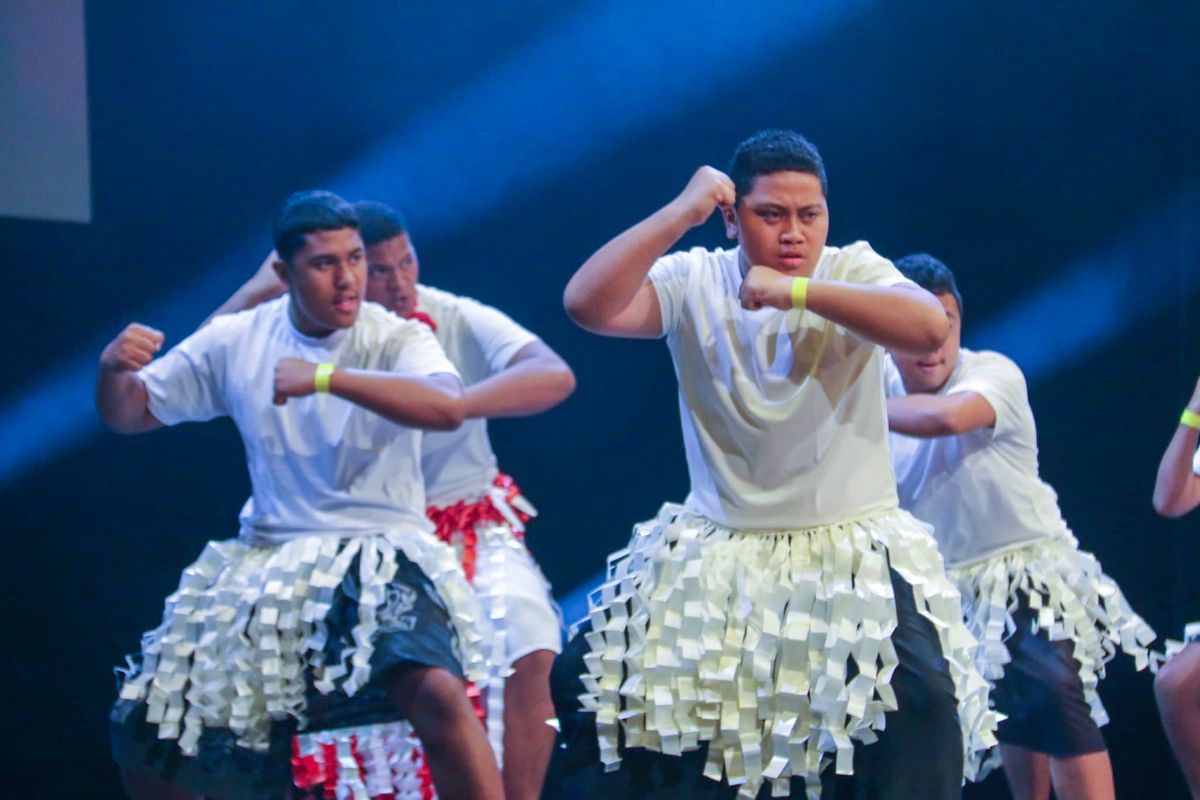 The Polynesian and Pacific Island communities are celebrating the impact the program is having on engaging young people with their culture.
"There are some students from certain schools who don't have a basic understanding of their culture so this program has been great to educate them and connect them with their culture," said JoJo.
"Everyone has a part to play," added PCYC CEO Dominic Teakle. "When you represent your family, your culture, your school, you leave a legacy for your community."
JoJo was also keen to highlight the impact of Samantha Padovani, the Family School Liaison Officer for St Agnes and St Clare's Catholic High Schools.
"If we had to rate all our school contacts in this program, she was number 1, she was absolutely amazing," Jojo said. "How she dealt with us has prompted us to consider altering our marking criteria by giving weight to the strength of the support staff. The care and the love she has for what she does, she captured the vision of the program straight away. You could really see her passion for helping her students make the most of this opportunity."
Event organisers are also hoping for an exciting addition to the second showcase event in September with the addition of a program for female students to be known as Teuila.
A few schools will be invited to pilot the program with the hope that they will perform alongside the boys at the September Haka Warrior event.
"There's the traditional Samoan dance which is called the Siva Samoa and when you see a young girl do this dance in particular, all those values are represented, similar to the Haka program," explained JoJo. "It talks about being graceful, seeing the inner beauty, being confident in who you are and being able to present yourself in a way that shows respect to yourself and your family. I'm probably more excited by the girls program than the boys."
---
View and Download all photos from this event